Takachiho Town: The challenge of a female farmer delivering smiles and new possibilities
Mrs. Takako Sato Amaterasu no Musumetachi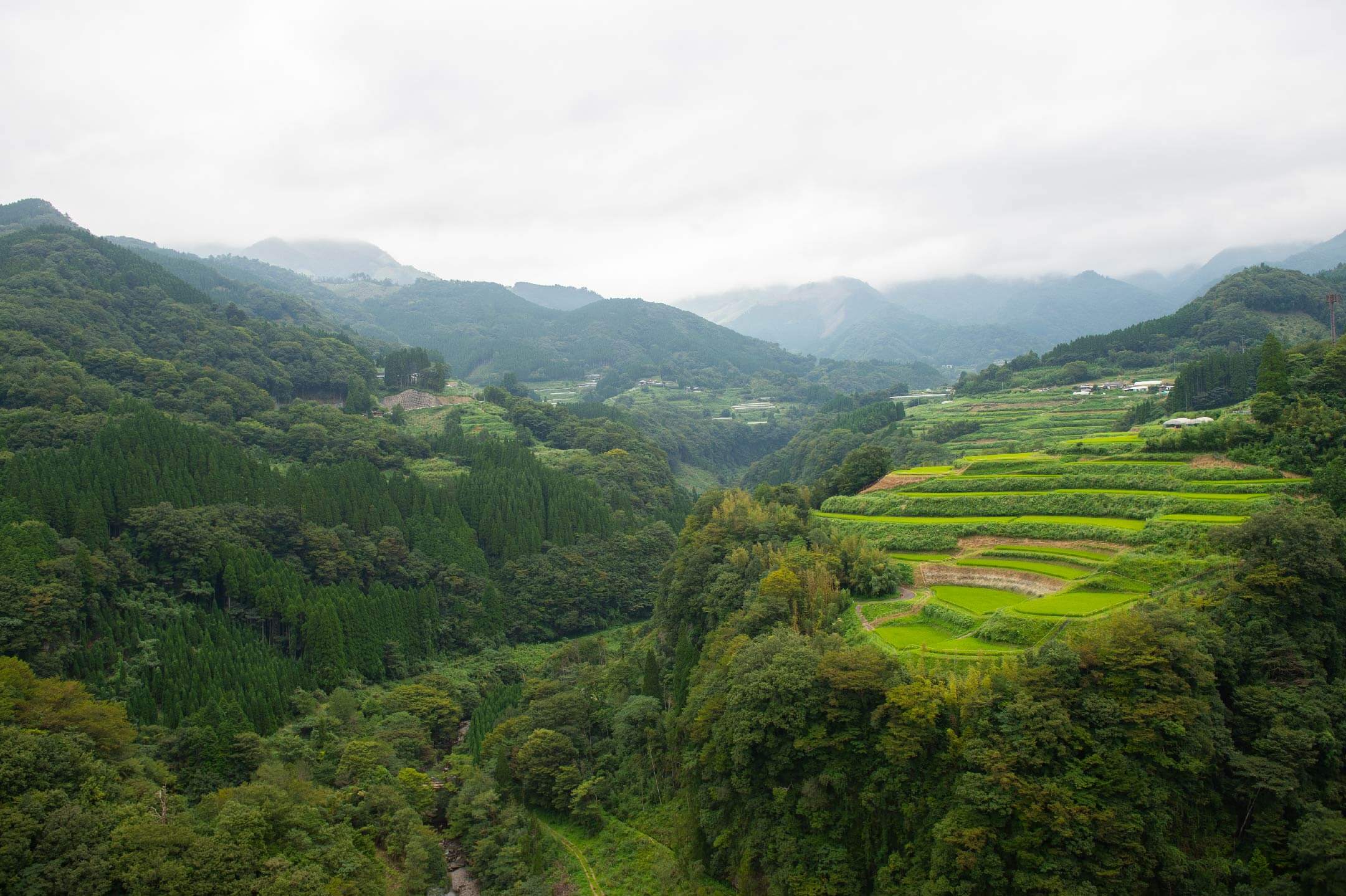 In the lush green mountains of Kamiiwato, just a 30-minute drive from the Takachiho Town Hall, sits Café Kaze no Michi. True to its name of "pathway for the wind," it overlooks the valley and embraces the breeze that blows along the mountainside. The café is run by Mrs. Takako Sato, the president of Amaterasu no Musumetachi (Daughters of the Goddess Amaterasu), a company that manufactures and markets processed agricultural goods.

Roughly 13 years ago, she was forced to scale down her agriculture business due to back pains, but instead, she embarked on a new challenge.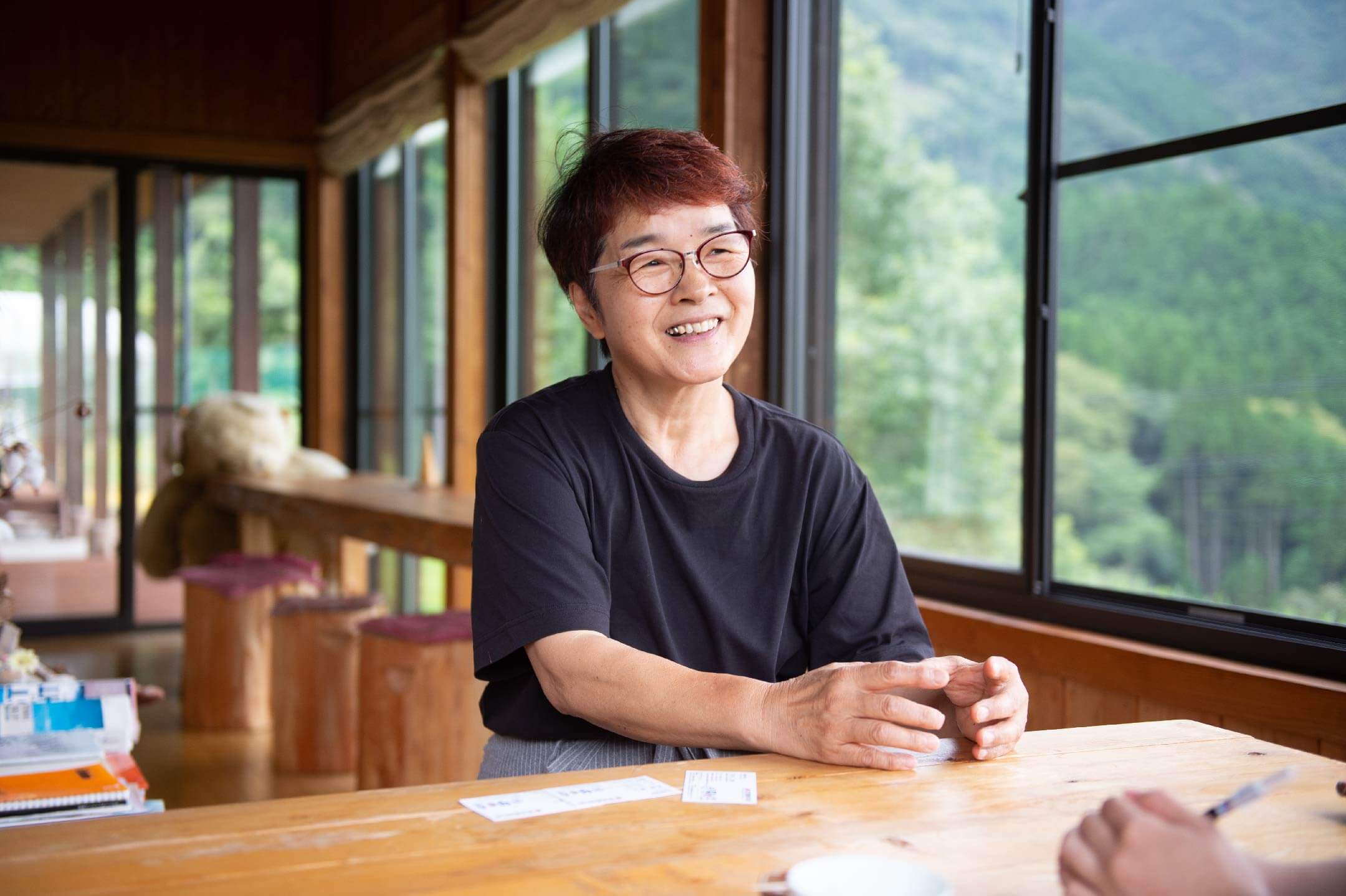 At the time, there was a big campaign for increasing rice consumption in Japan, and Mrs. Sato started to teach herself how to bake bread with rice flour, hoping to make use of the rice she milled herself. In 2008, she and a few partners started Soyokaze Kobo in a workshop built next to her home.
In addition to rice flour bread, she sold rice flour pizzas using sauce made with homegrown summer and autumn tomatoes. The pizza became a big hit, and customers started to express a wish to eat at the workshop while taking in the splendid view. So in 2010, she and her husband Mineo renovated part of their home and opened Café Kaze no Michi. After appearing on a famous TV program, the café became a popular destination for people across the country.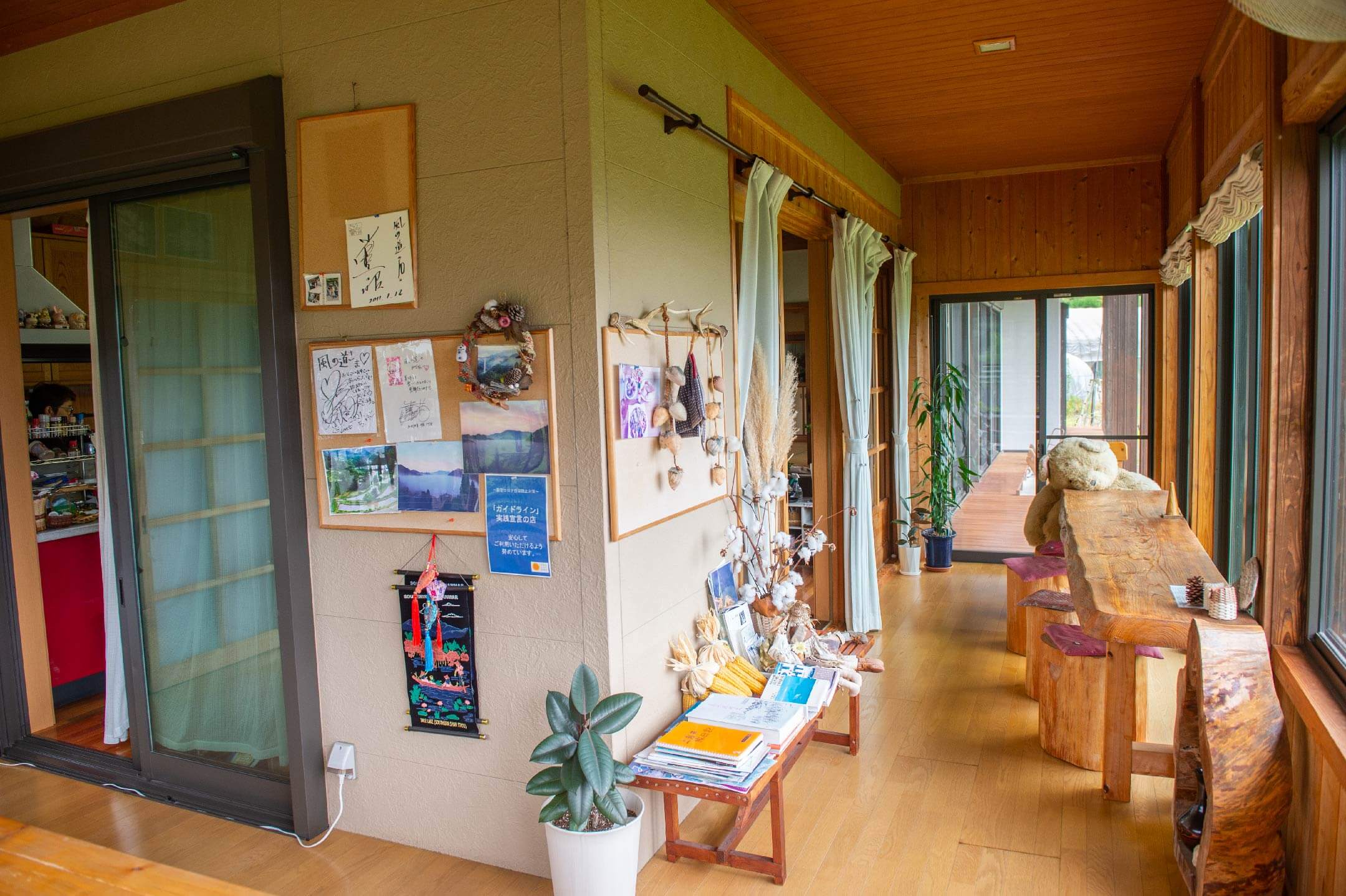 Café Kaze no Michi is a warm and cozy place where you forget about the time.

Though it may seem like Mrs. Sato's success came easy, she says it was full of challenges and that it wouldn't have been possible without the help of her friends and family. "It was a friend who taught me how to make tomato sauce, and when I was wondering what I could do with it, my sister suggested making pizzas. I've been able to manage the café thanks to all the people who help me, and the town and prefectural governments were there for me as well. I couldn't have done it without this sort of bond with people. And you also need motivation. If you give up, it's all over. Motivation is way more important than skills!" says Mrs. Sato with a cheerful smile.
Turning unsellable kumquats into a hit product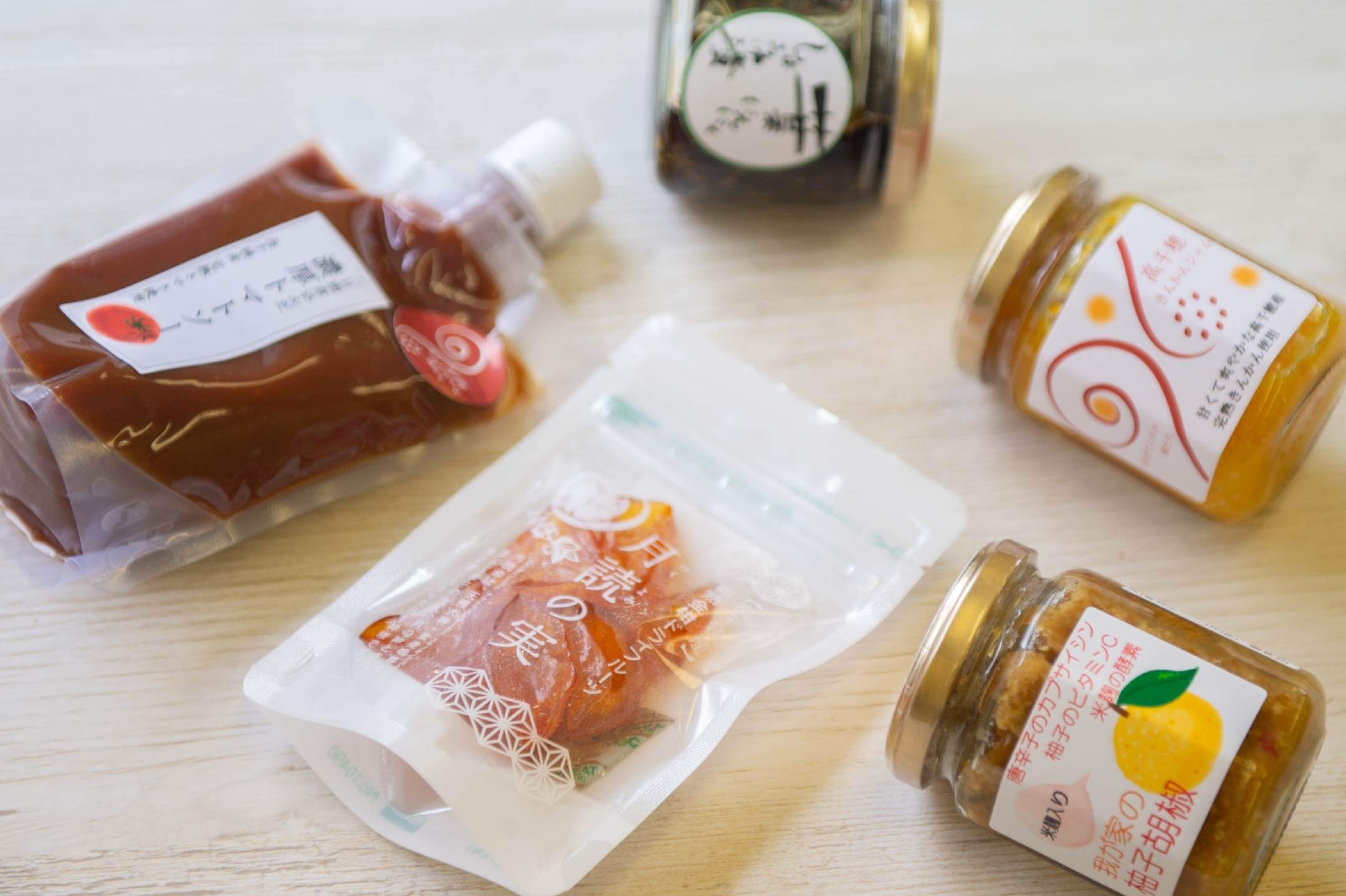 In addition to running the café/restaurant, the LLC Amaterasu no Musumetachi founded by Mrs. Sato and her business partners manufactures and sells products such as yuzu kosho paste, soy-sauce pickled garlic scapes, and oyaki made with Takachiho produce. One product that's been selling especially well in recent years is the dried kumquats known as "Tsukiyomi no Mi."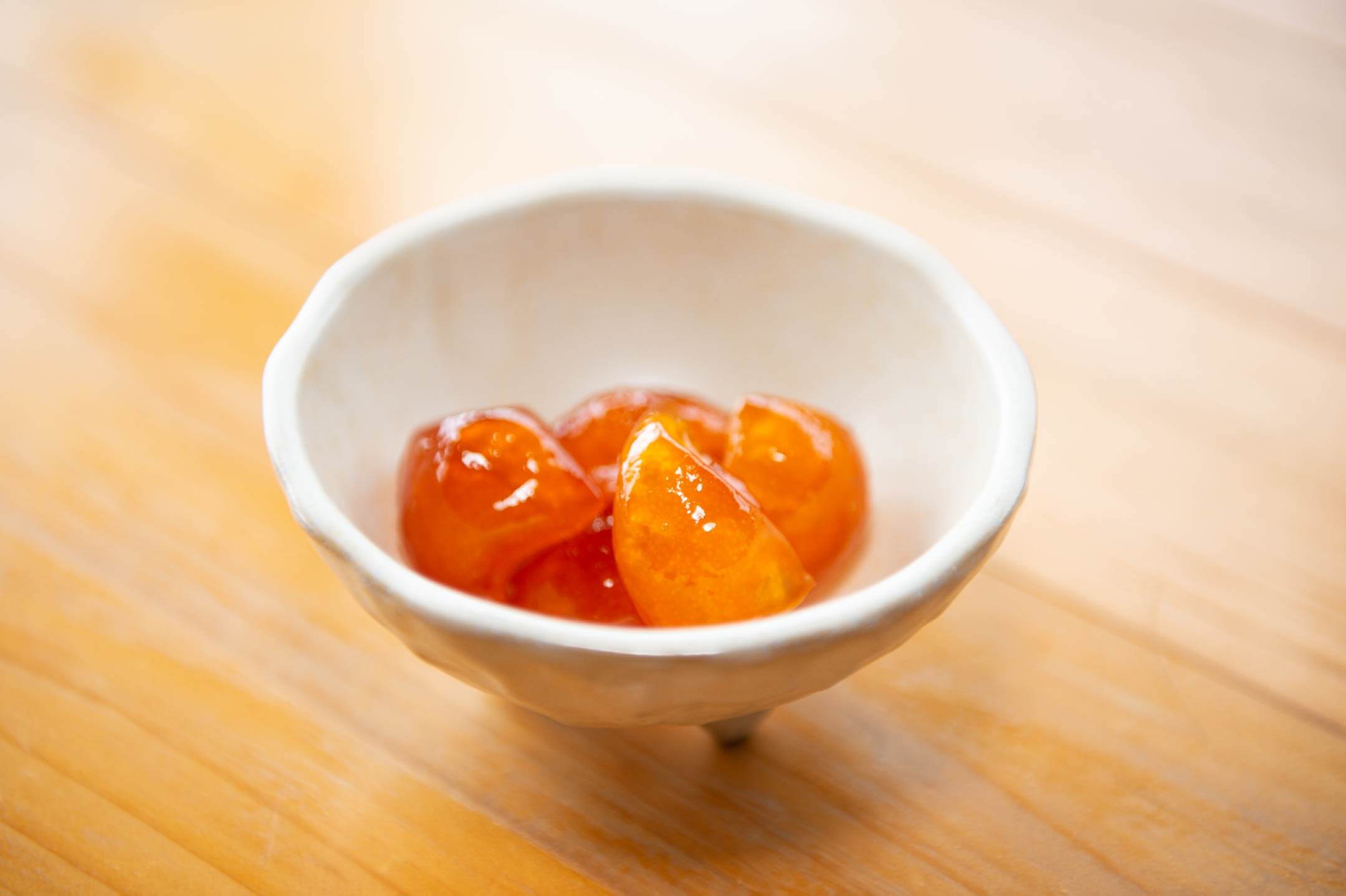 It all started when Mrs. Sato took notice of substandard kumquats that couldn't be sold on the market. "They're damaged and don't look pretty, but there's nothing wrong with the taste. It was such a waste to throw them out, so I wondered if there was something I could do with them." She then came up with the idea of cooking the citrus in syrup and selling it as a dried fruit. Before, the high-quality kumquats here fetched high prices on the market and were only bought by a narrow customer base. But not only would selling dried kumquats at an affordable price make use of the unsellable fruits, it would attract new customers.
Early on, Mrs. Sato only sold in small batches as it was something she made individually on her own. However, after founding Amaterasu no Musumetachi, she completely renewed the product name, packaging, and sales strategy. She took the advice of one of her fellow founders, and just like their company, they named the dried fruit after Japanese mythology. Tsukiyomi no Mi comes from Tsukiyomi no Mikoto, the moon god of the night. Their idea proved to be a big hit, and the bite-sized fruit came to be one of their top products, selling some 4,000 packages in 2020.

Unchanging passion, now and into the future
Producing Tsukiyomi no Mi involves tedious manual labor, from hulling, slicing, to removing seeds. As their business expanded, Mrs. Sato's company started to outsource this prep work to the town's welfare facility. By marrying agriculture with social welfare, they create new job opportunities and make a meaningful contribution to society. In 2020, their efforts were awarded an Agricultural Technique Award by the Miyazaki Nichinichi Shimbun newspaper.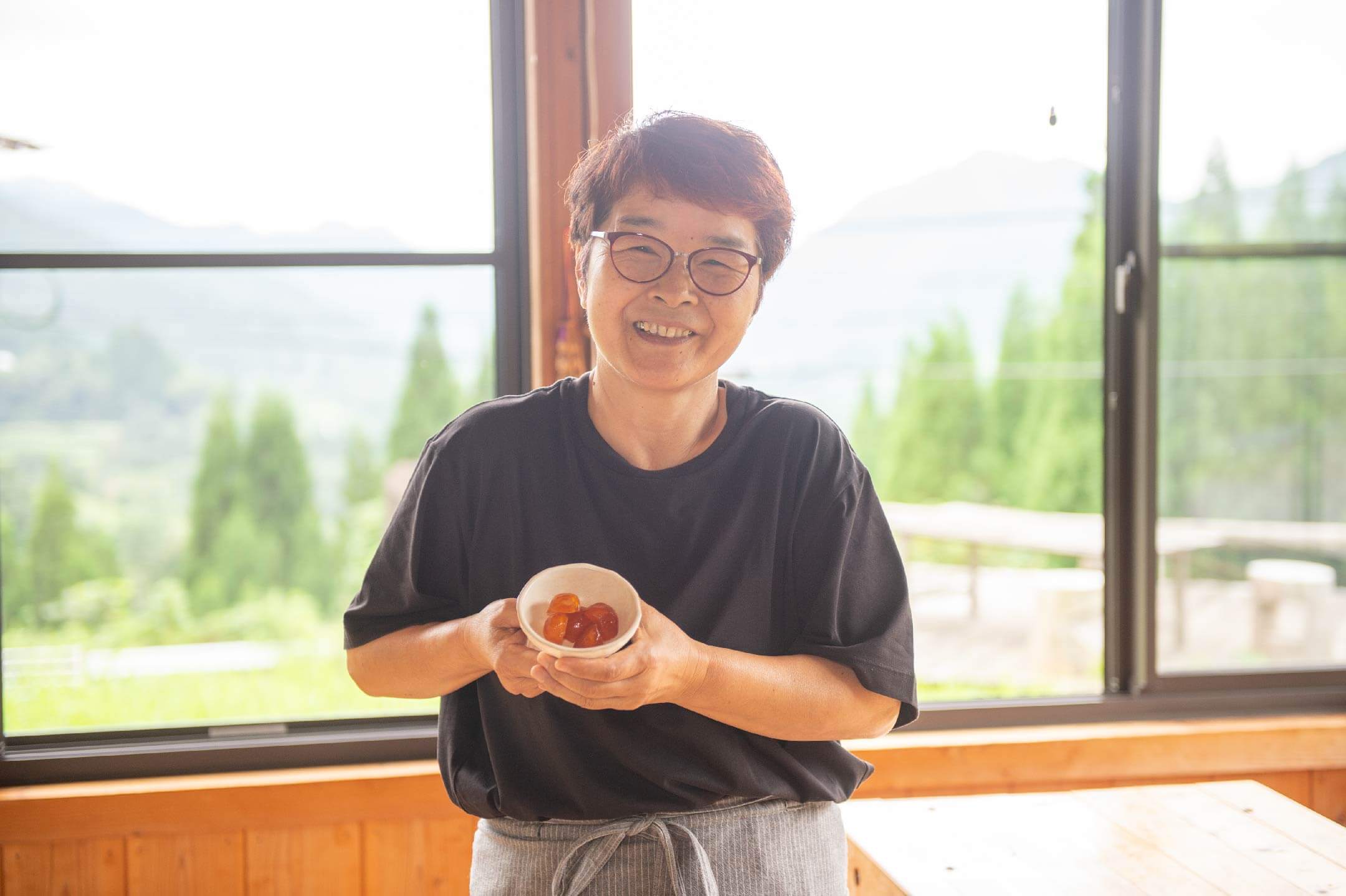 "Takachiho is a treasure trove of agricultural products, but it pained me to see so much produce go to waste simply because they were substandard for the market. So I got to thinking that being able to process the wasted goods would be profitable, make farmers happy, and create new job opportunities. What's more, we can challenge ourselves to develop new products, and that leads to new possibilities. That's been at the core of what we do since the beginning."
The foresight of Mrs. Sato and her partners has brought together agriculture, manufacturing, and marketing from early in their venture and steadily expanded their business. It's anyone's guess as to what they'll have in store for us next.