Morotsuka Village: "Composite management of agriculture and forestry"—a mutually complementary system born from tough working conditions
Mr. Shigeyoshi Ogawa Business owner employing composite management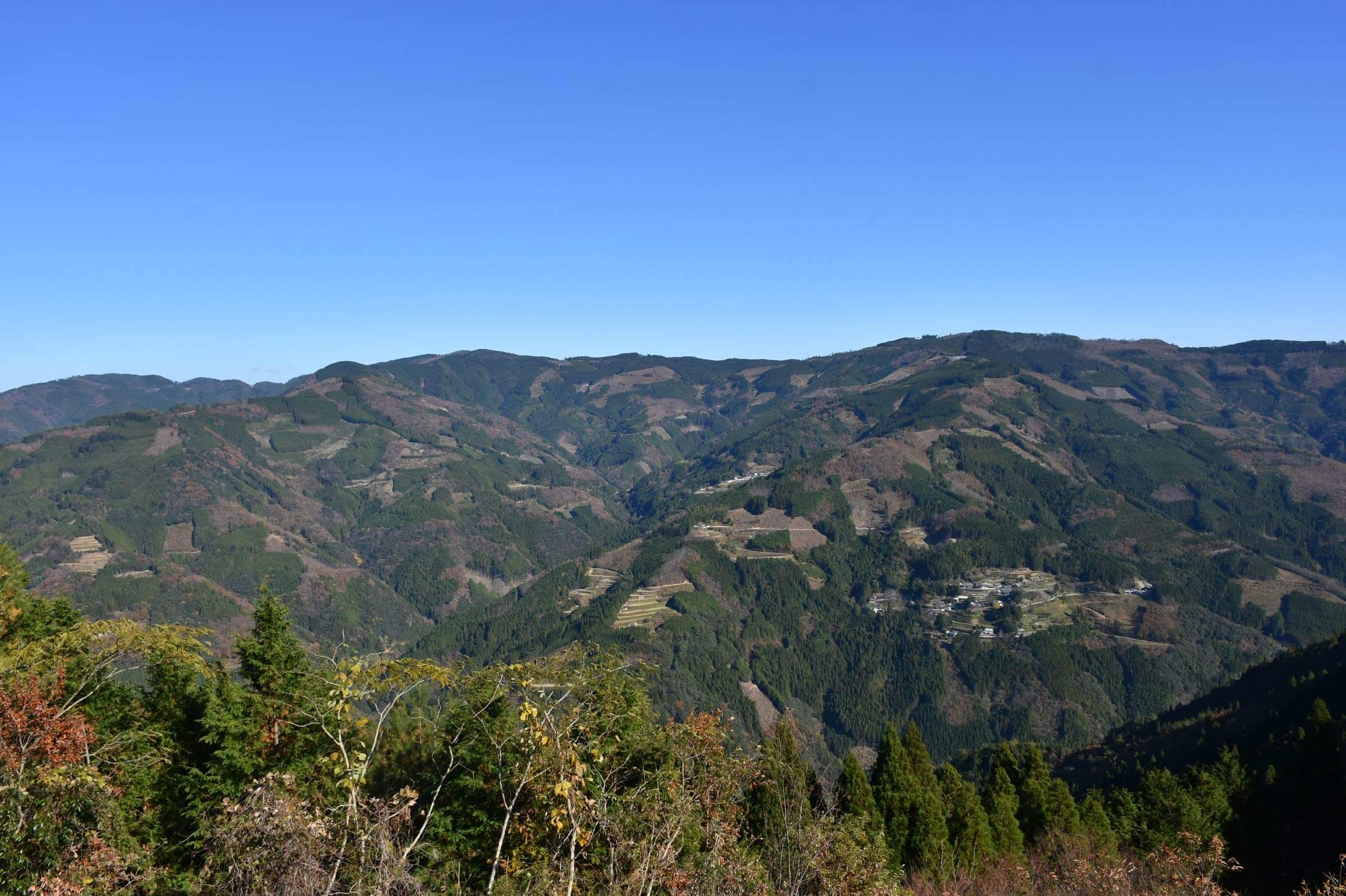 Shiitake cultivation that reduces the burden on producers
Admire the mountains that stretch every which way, and you'll see a unique view known as a "mosaic forest." It comprises a coniferous forest of Japanese cedar and cypress for timber production, and a deciduous broad-leaved forest of sawtooth oak for shiitake cultivation. The trees are managed separately in forests owned by medium-scale forestry business owners.
Take a drive down the winding mountain road as you look down at these trees, and you'll arrive at Morotsuka Village's "Shiitake Complex."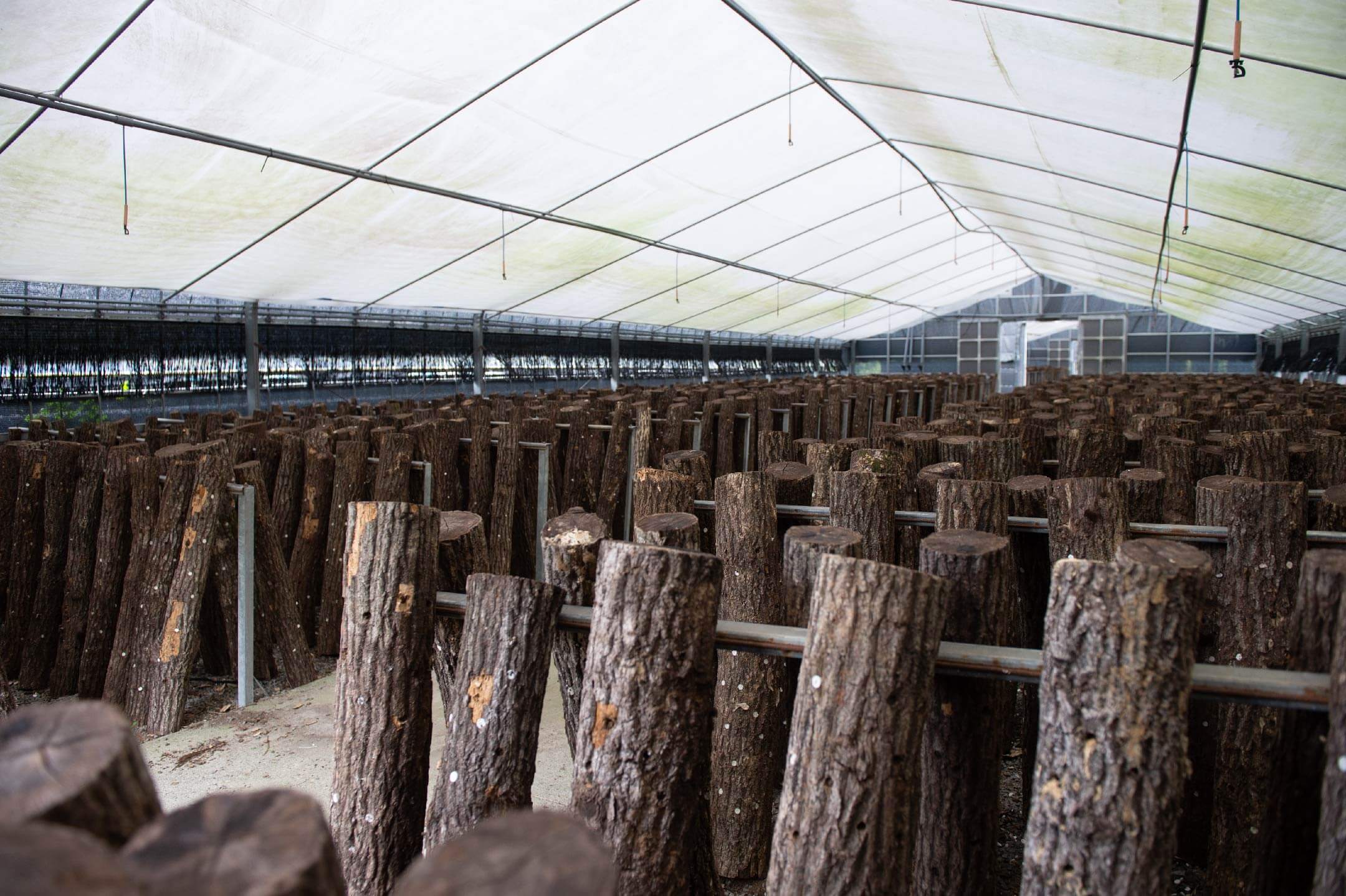 The complex consists of four fully-equipped shiitake log cultivation facilities that are managed by the village office and rented out to producers.
Shiitake log yards are usually spread across steep mountain slopes and full of danger. As shiitake production started to decline over the years due to imported dried shiitake causing prices to drop, the Shiitake Complex was introduced as a means to solve such problems and improve productivity.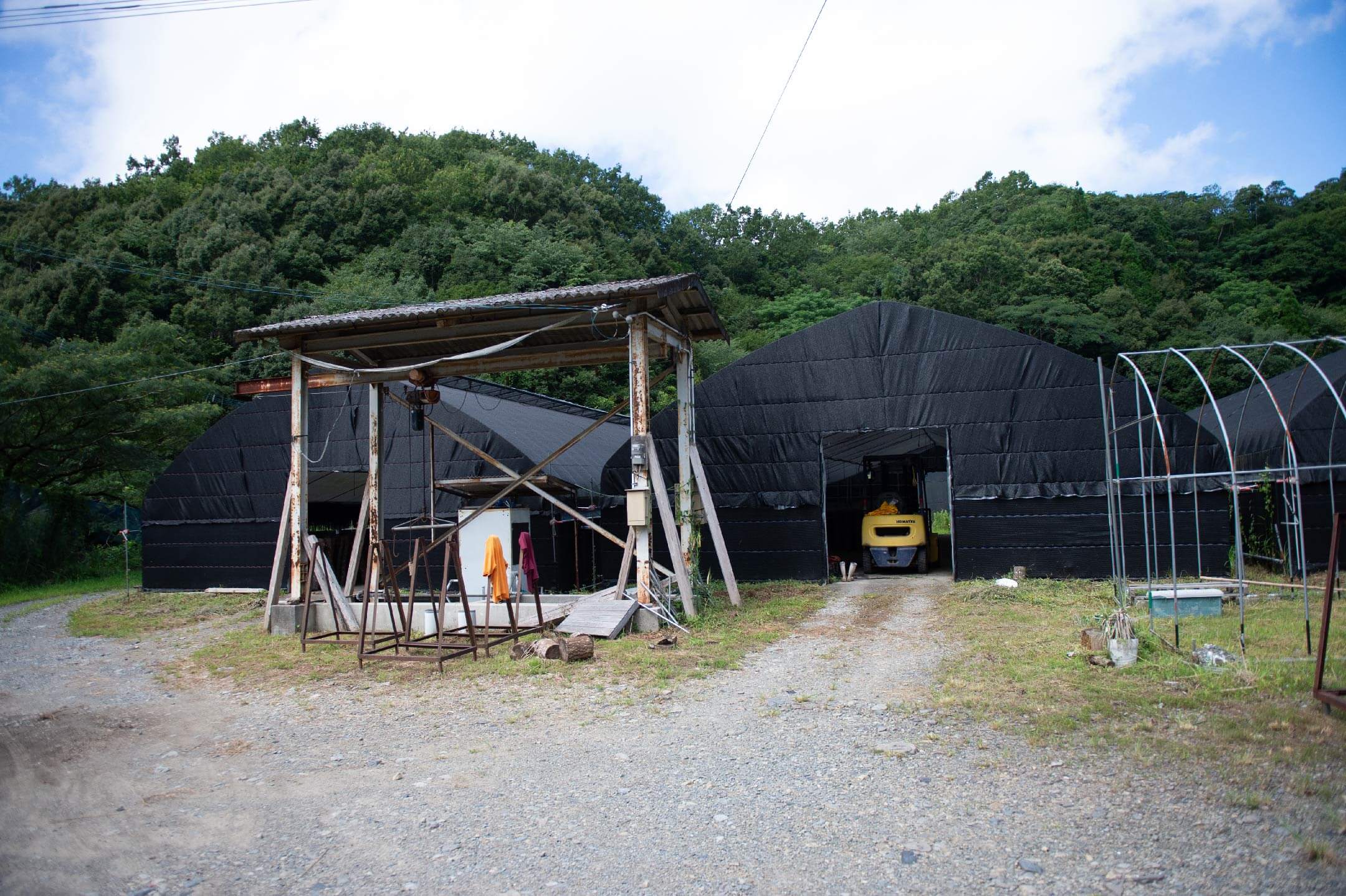 The complex is built on flat ground to ensure a safe working environment and comes equipped with machinery for cutting, inoculating, and soaking logs, and harvesting and drying shiitake.

Mr. Shigeyoshi Ogawa is a producer who cultivates shiitake from logs here. On this day in August, he was busy with "log-flipping."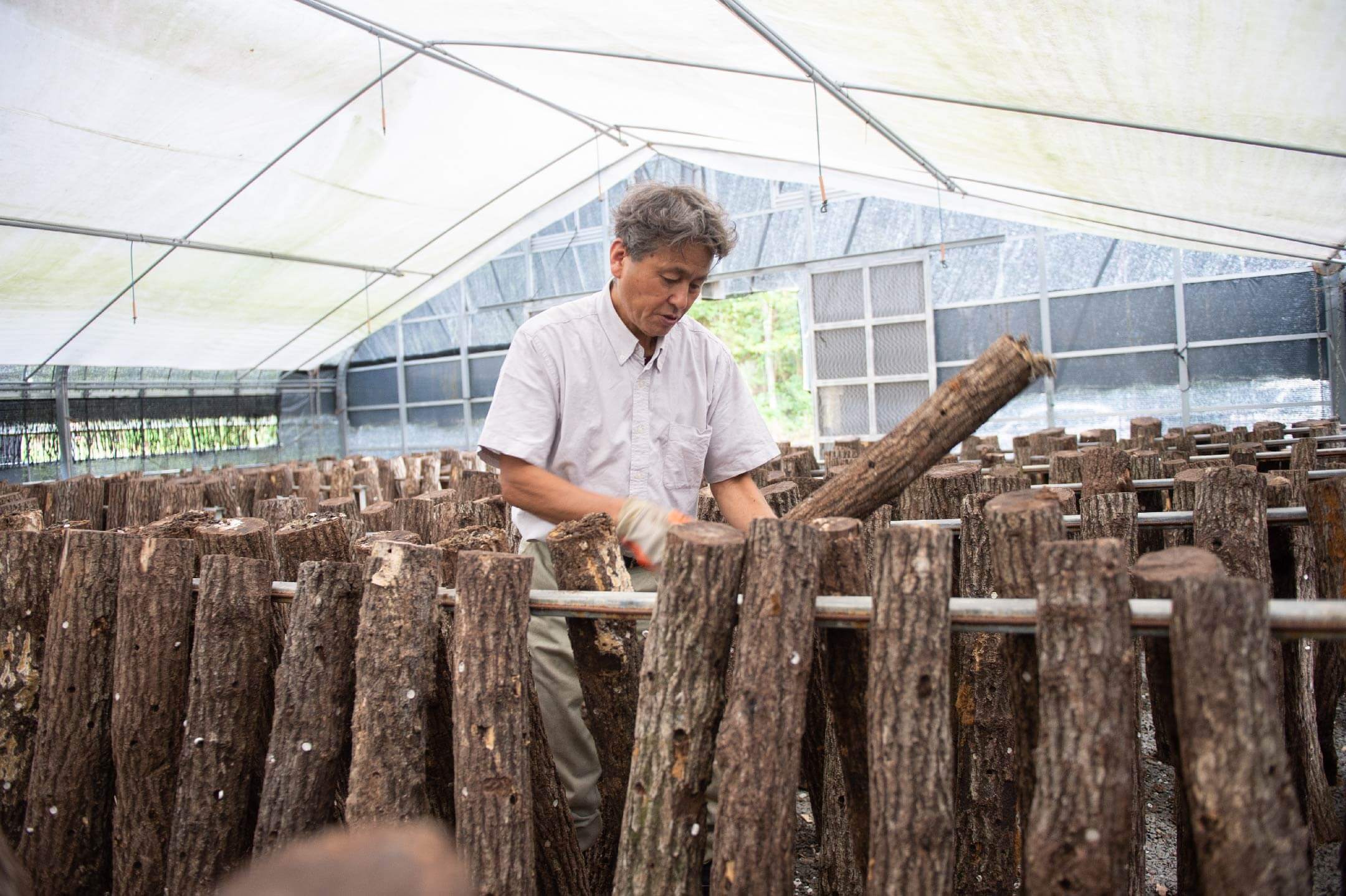 In summer before the Bon Festival, each of the logs is flipped over to make sure the spores spread evenly.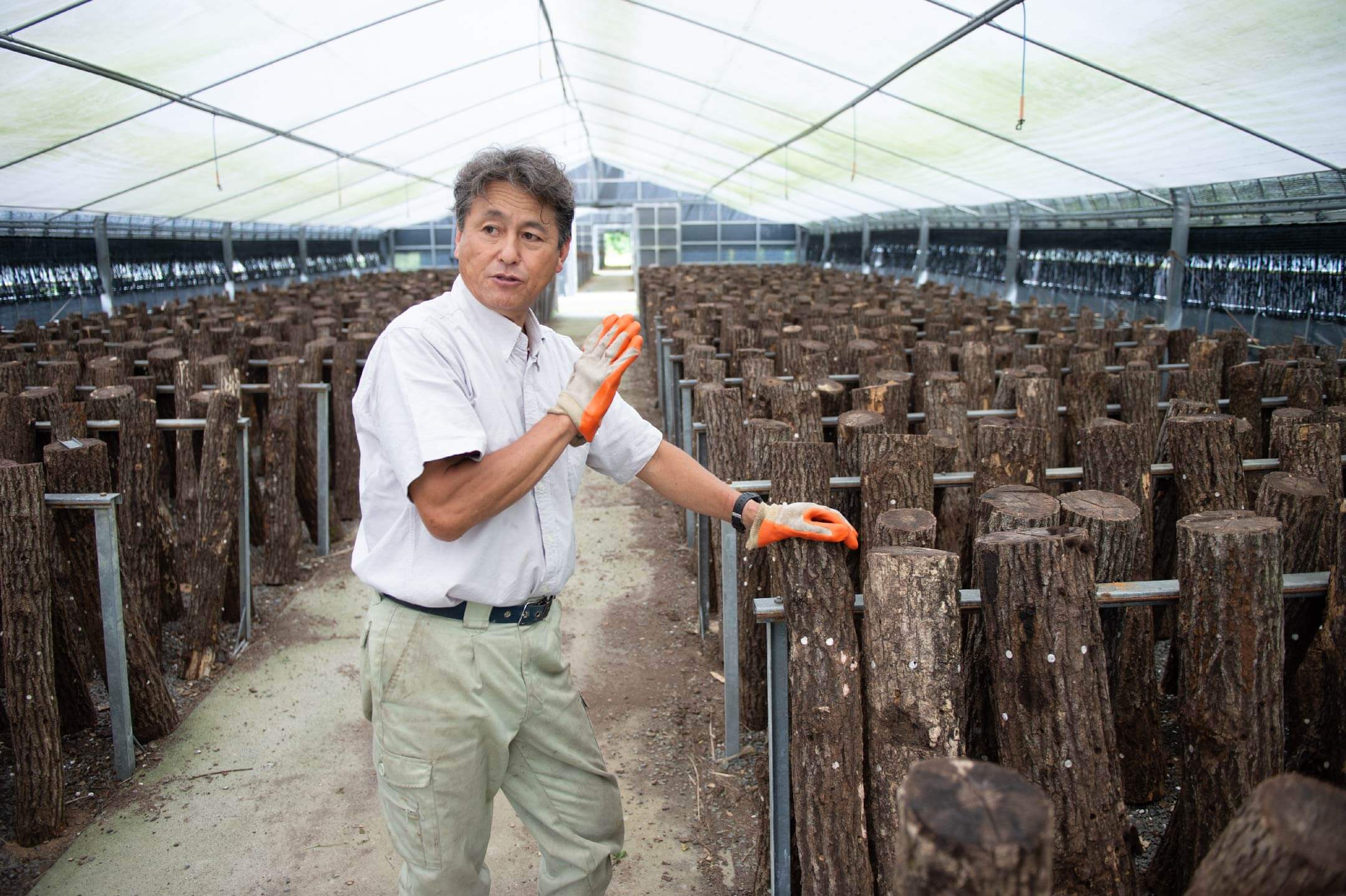 Although working on flat land has greatly reduced the workload, the logs are still flipped by hand, and the cultivation process takes years. The tree for the logs are cut down around October to November and inoculated in February to March. Some logs need to be left for two summers for the spores to spread and shiitake to grow. Mr. Ogawa also says that after the trees are cut down, it may take 20 to 30 years for the sprouts from the stumps to grow tall enough to be used as cultivation logs again.
This time-consuming process is a gentle reminder that one is up against Mother Nature.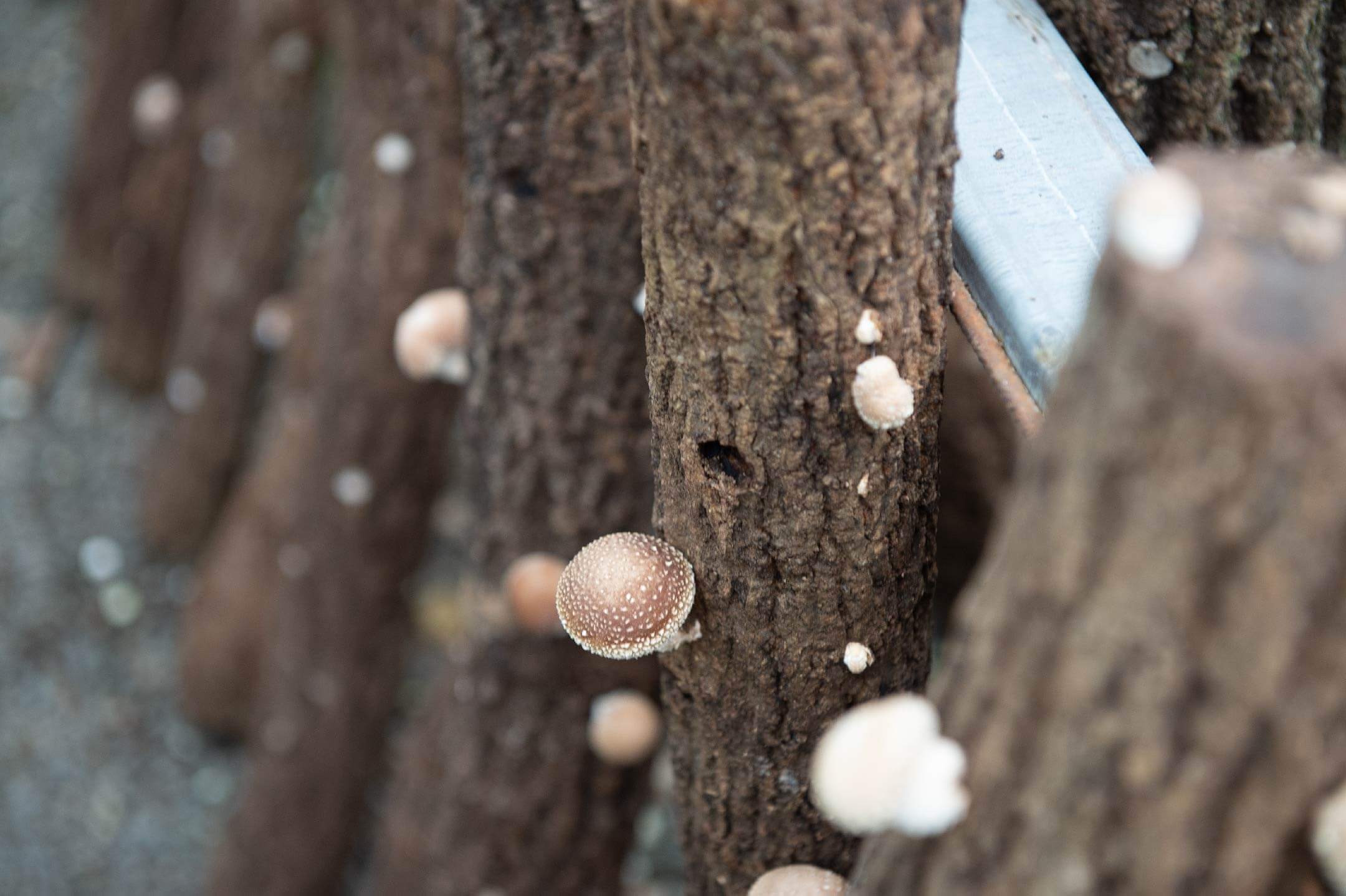 In some cases, logs that have been recycled for years are being laid to rest due to a lack of successors in the industry and aging workers. In order to bring together people seeking logs and those who no longer have a need for them, there is the "Shiitake Log Bank," a unique service of Morotsuka that is protecting the village's reputation as one of Japan's top producers of shiitake grown on logs.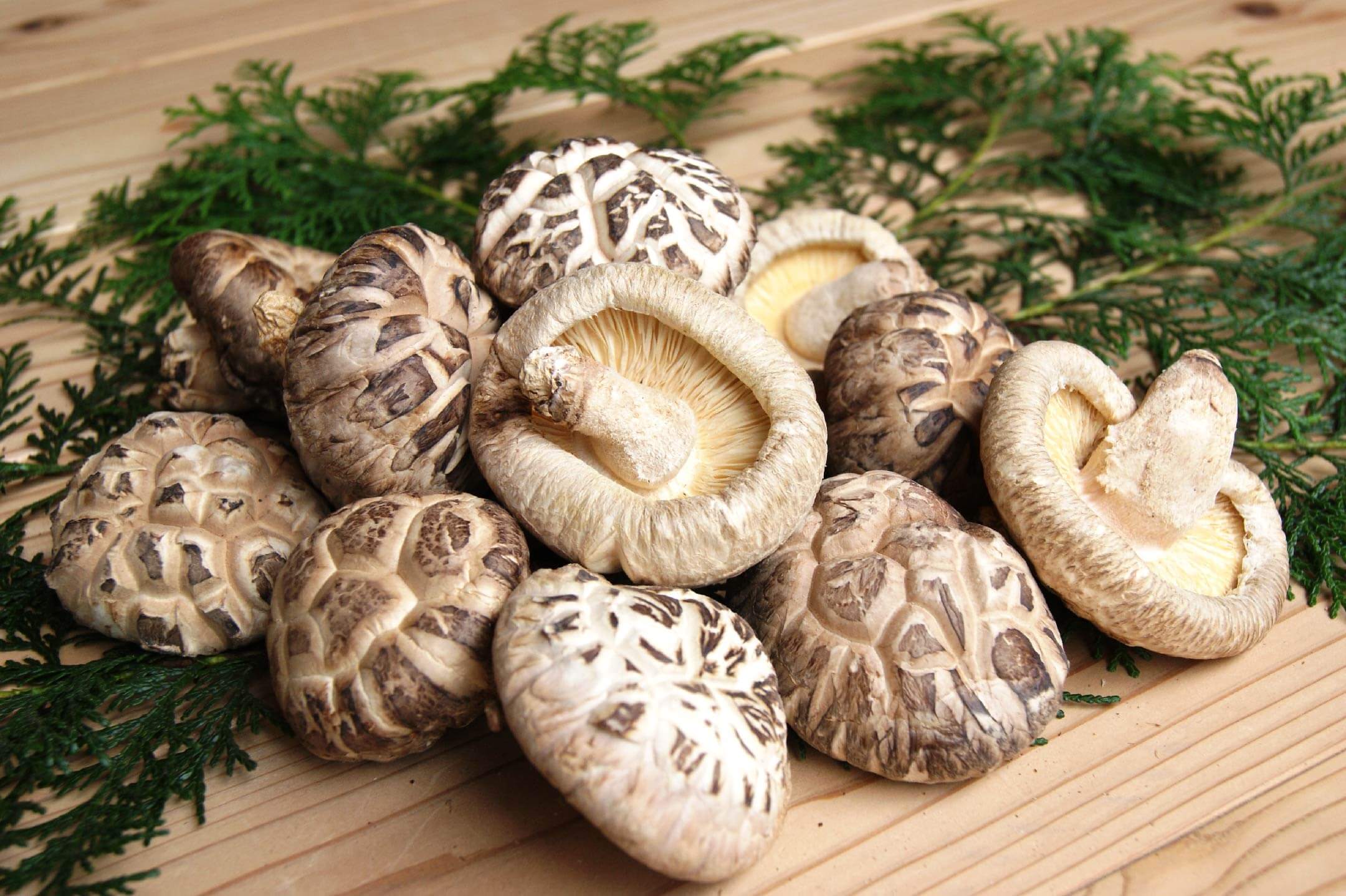 Trailblazing the future with tea
In addition to shiitake, Mr. Ogawa also produces kamairicha—a type of green tea that is pan-roasted to stop fermentation—at the village's Kamanomae Tea Factory. Kamairicha is produced only in mountainous areas of the Kyushu region and accounts for a mere 1% of the green tea produced nationwide. But here in Morotsuka, it is one of the most common.

Mr. Ogawa has also founded the Morotsuka Oolong Tea Research Group to work on utilizing the often-overlooked second harvest to market it as oolong tea. His aim is to add new value to Morotsuka tea as domestic consumption of green tea follows a downward trend. The fact that oolong tea is made in a similar fashion to kamairicha and uses the same machinery is a big advantage as well.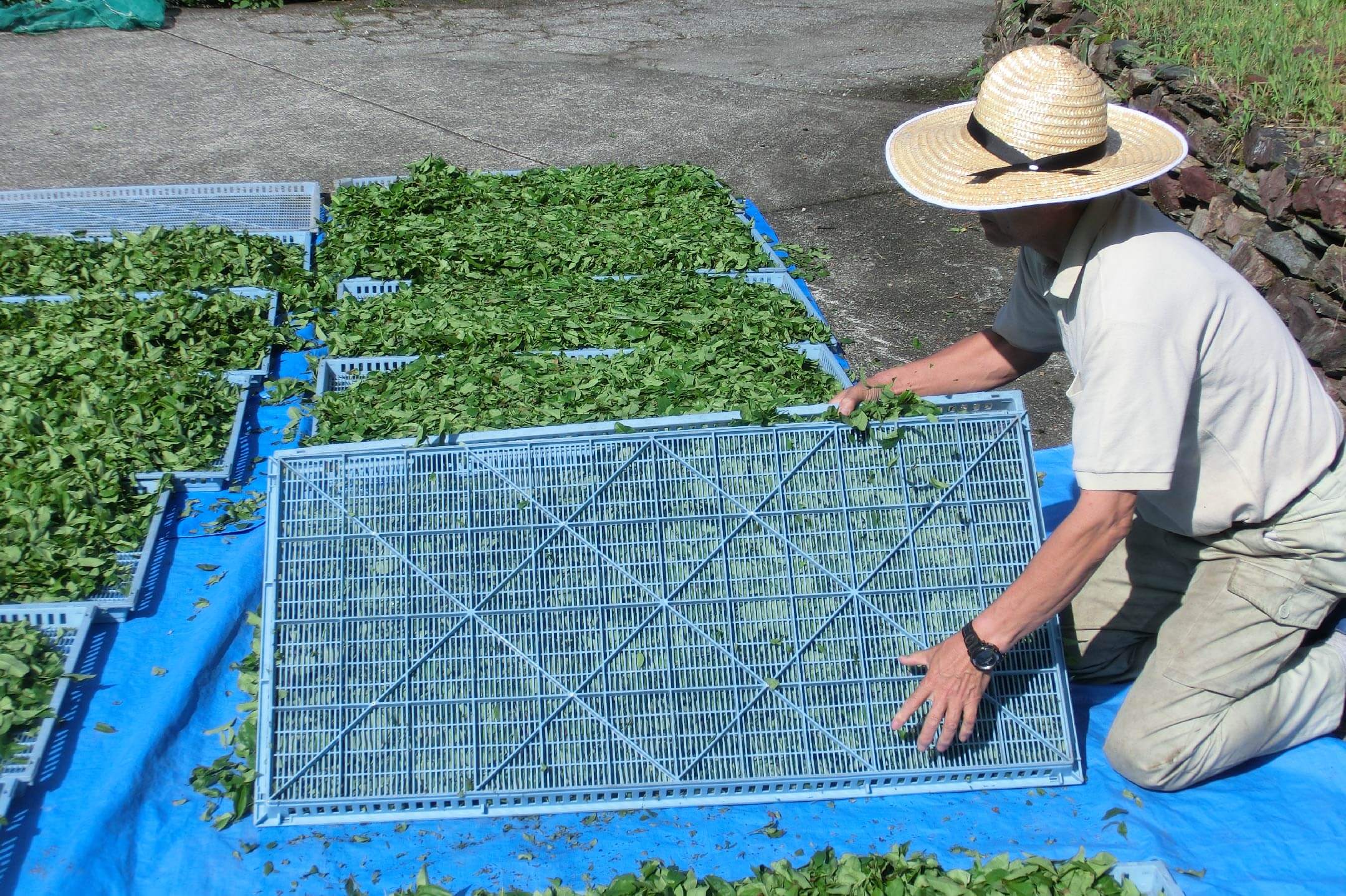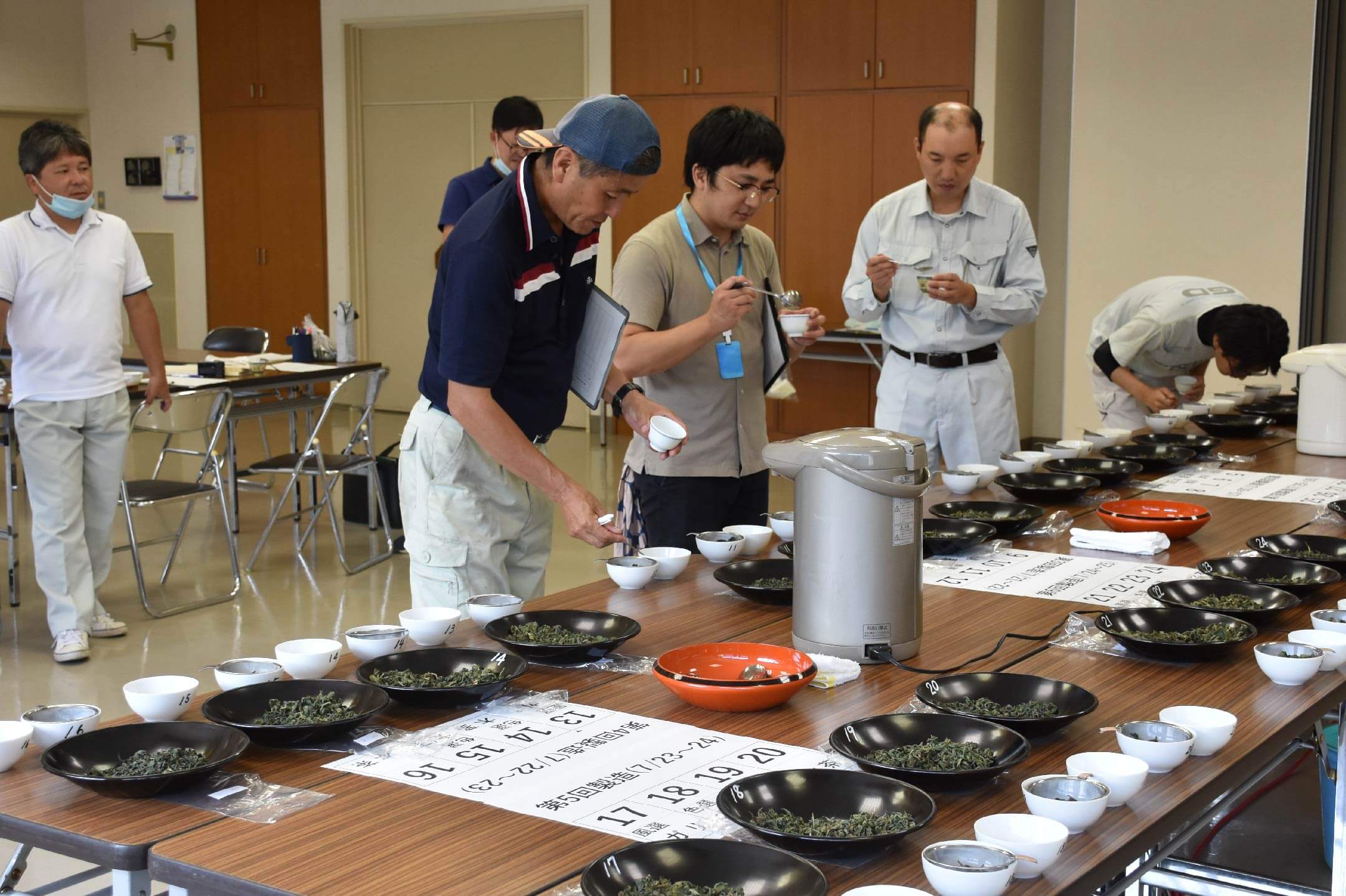 Oolong tea tasting at the Morotsuka Village Hall.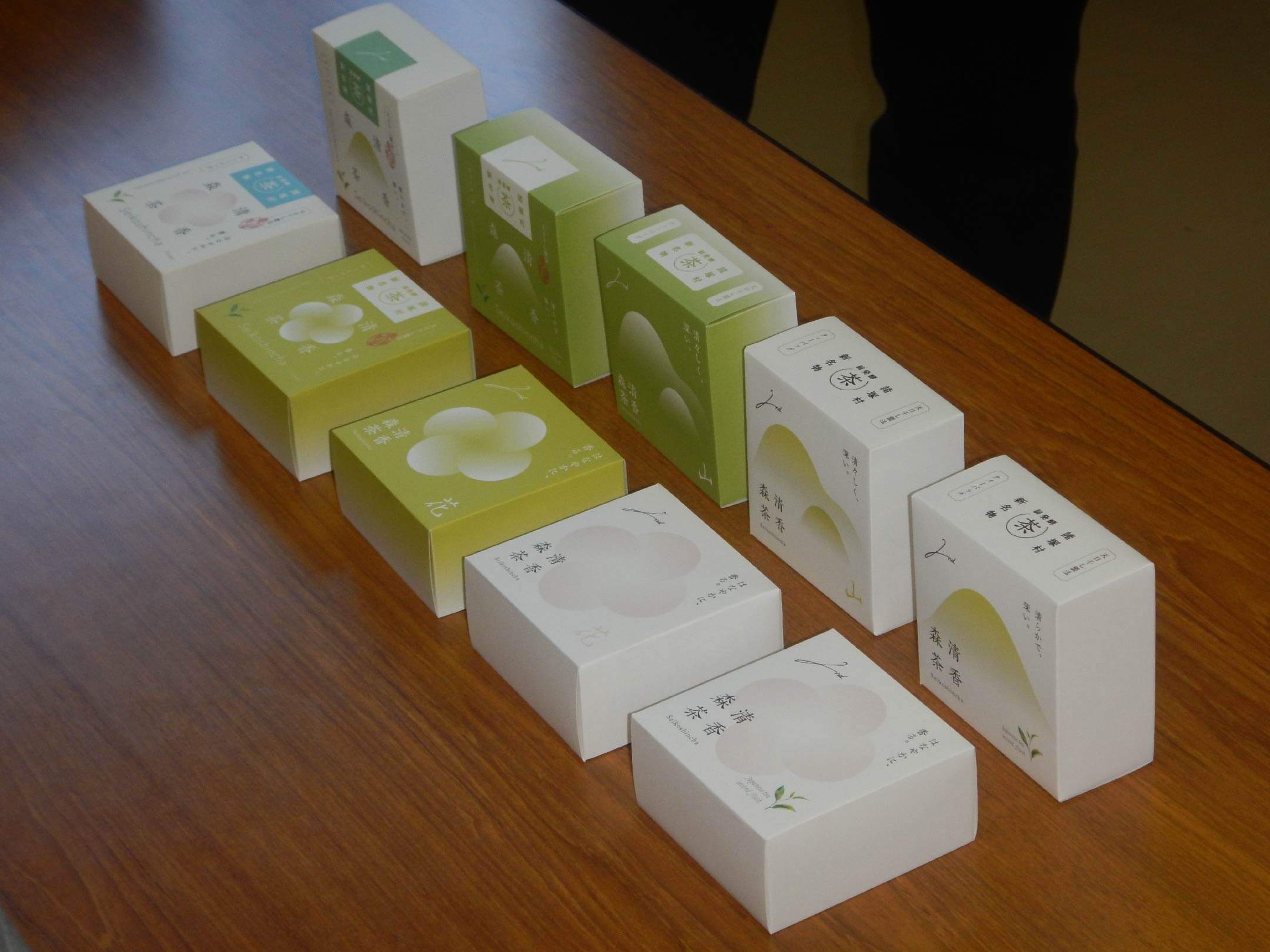 With the packaging design taking shape, the tea will hit the market soon.

Mr. Ogawa said that during the trial phase, he'd sometimes sleep over in the factory. Although he's still working on finalizing the product, he's full of hope. "Eventually, I wish I can make oolong tea into one of Morotsuka Village's top specialties."
Village life as seen through the mosaic forest
Combining various industries such as timber, shiitake, and tea like Mr. Ogawa does is known as "composite management," and it's an approach adopted by many small-scale agro-forestry workers in the village. Mr. Ogawa says, "I believe this was established by predecessors who wished to reduce business risks in this tough environment that has very little flatland."
The people of Morotsuka have deftly adapted to this unusual land—covered in forests and just 1% flatland—by living in harmony with nature. The patchwork forest that covers the mountainside is symbolic of their way of life.